Nishikasai Center
TEL: 03-5679-5571 [ Google Map ]
All English environment
All of our classes offer and operate in all English environments to foster the natural acquisition of English for children through play, singing, eating and enjoying with our bilingual staff and native English speaking teachers who run the classes.
Class / Schedule
Not Kindergardener
Kindergardener and up
Options
Free trial
Access
Address
134-0088 Doi Bldg. #3 1F 3-6-7 Nishi-Kasai Edogawa-Ku Tokyo
Tel
Access
東京メトロ東西線 西葛西駅北口より徒歩5分
Go out of the north exit at Nishikasai station of Tokyo MetroTouzai line.
As you get off the escalator, turn left and cross the street then turn right.
Walk straight two blocks (170 m) and turn left at Matsuya.
Kids International is located at the left side of the street after passed the first set of lights.
Nishikasai Elementary school is located right in front of our center.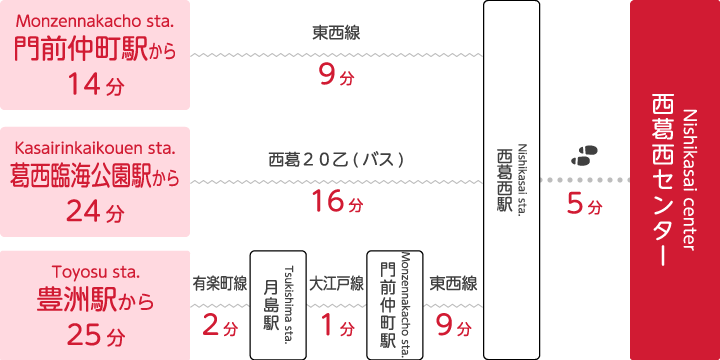 CHILD CARE
Monthly Service
You can utilize the monthly child care service from 3 hours
one day a week up to everyday, full-time child care.
English teachers and licensed child care staff will be taking care of your children.


Ages

1year -

Times

Monday to Friday : 9:30 - 18:00

Monthly Fee

¥ 12,600- (3yrs-)
¥ 14,900- (2yrs)
¥ 18,600- (1yrs)

Spot Service
The Spot service is provided to coordinate with mothers' busy schedules.
Spot Care is available in 30-minute increments from a minimum of one hour.


Ages

1year -

Times

Monday to Friday : 9:30 - 18:00

Fee

¥ 1,200/H(3yrs)
¥ 1,400/H(2yrs)
¥ 1,800/H(1yr)

↑ ページの先頭へ
© 2011-2020 Kids International.