Hibarigaoka Center
TEL: 042-438-9530 [ Google Map ]
All English environment
All of our classes offer and operate in all English environments to foster the natural acquisition of English for children through play, singing, eating and enjoying with our bilingual staff and native English speaking teachers who run the classes.
Class / Schedule
Not Kindergardener
Kindergardener and up
Free trial
Access
Address
188-0001 Nouvelle Villages Hibari 2-8-27 Yato-cho, Nishitokyo-shi Tokyo
Tel
Access
西武池袋線 ひばりヶ丘駅 南口(西友 方向)より徒歩10分
Seibu Ikebukuro line, Hibarigaoka sta. South Exit
Walk towards the path beside Seiyu. Keep walking straight until you see 7 Eleven.
Cross the street towards 7 Eleven, turn left and walk towards Yato Icho Park.
About 100m ahead, you will see an opening space on your right hand side.
The building entrance is at the inner part of the opening space.
(Please press 『200』to unlock the front gate)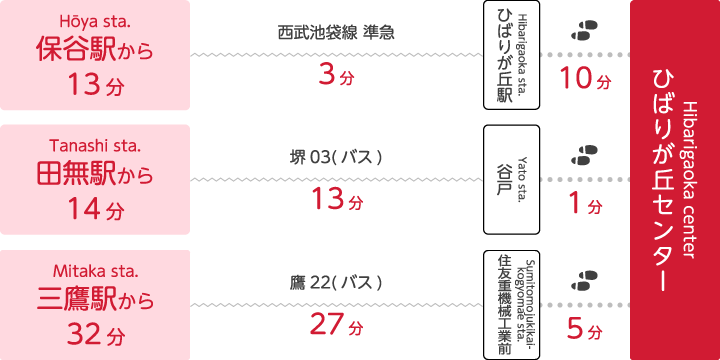 CHILD CARE
ひばりが丘センター does not offer Child care services.
↑ ページの先頭へ
© 2011-2020 Kids International.